Services are held on Sunday at both 9 am (communion) and 11 am
No 9AM Service -30 April 2017
—
Applications for financial assistance from the Helen M. Watson Fund will be received prior to April 30, 2017. For guidelines on the fund please go to the Watson Fund Page.
The Spring Newsletter is online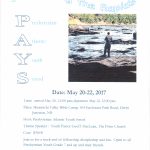 Click on image for larger display
..
..
   The World Council of Churches maintains an Ecumenical Prayer Cycle website.
Note:  Bulletins are in  "BULLETINS" at right on this page
Copyright permission for lections and scriptures has been received through the Vanderbilt Divinity library project in the following terms.
Lectionary selections are reprinted from Revised Common Lectionary Daily Readings copyright © 2005. Consultation on Common Texts, Augsburg Fortress Publishers. Reproduced by permission.
Scripture texts are from the New Revised Standard Version of the Bible, copyright © 1989 by the Division of Christian Education of the National Council of the Churches of Christ in the USA. All rights reserved. Used with permission.